In our ongoing effort to help make planned giving more accessible, collaborative and beneficial for charities, we hosted a workshop led by fundraising expert Laura Kaufman. The fourth in our series of free seminars and workshops, Engaging Your Donors for Life-Long Giving, invited Chicago-area nonprofits to learn about strategies and tactics for engaging donors over a long time horizon.
Laura covered three major areas with us:
The Individual Donor (ID) Marketplace.
What is Engagement and Why Does It Matter?
Driving Donor Engagement.
State of Giving: National and Chicago Area Trends
Nonprofits are experiencing more giving than ever before. In each category, numbers are on the rise, year over year. According to Giving USA's report, giving by bequest is up 2.1%, giving my individuals is up 3.8% and total giving has increased 4.4%. The next question is, where is the money going? This chart from Giving USA breaks it down nicely.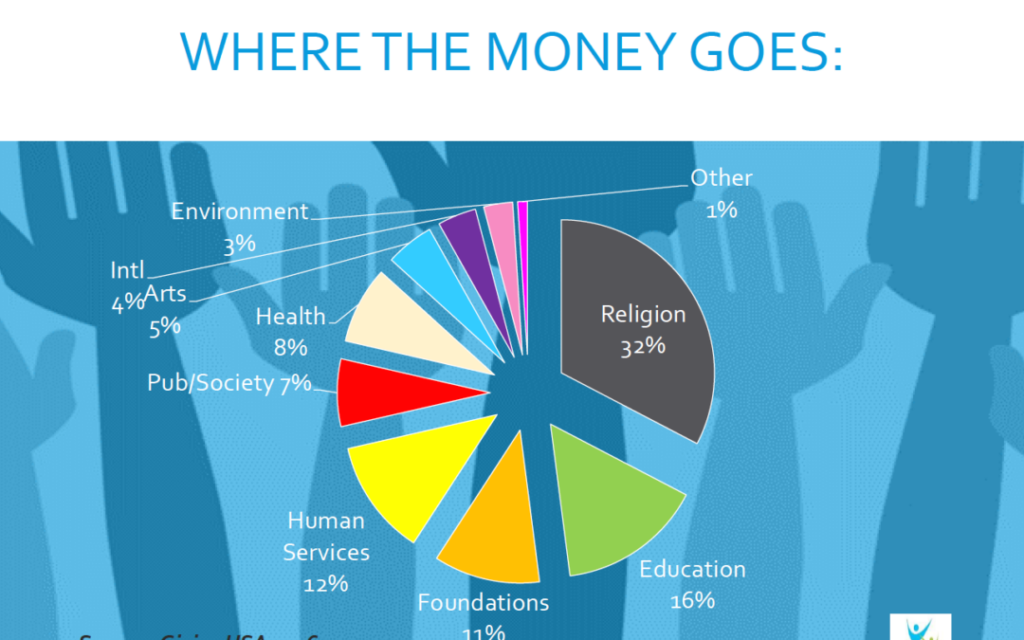 Drilling down to the specific Chicago area market, the Chicago Community Trust shared some interesting data. Compared to a national average of 59%, 73% of Chicagoans give to charity. 49% of Chicago households volunteer and 78% of dollars donated by Chicagoans stay in the region.
What is Engagement:
Often overlooked, donor engagement is absolutely critical for the long-term health of an organization. While nonprofit fundraisers are busy managing many initiatives for their organization, donor engagement must be the core of their day-to-day. Research shows doing so will make capital and annual giving campaigns go more smoothly, netting better results.
The donor engagement cycle can be broken down into these simple components: Recruit/Inspire, Learn, Engage, Ask, Thank, Repeat, Upgrade and Retain Long-Term.
One common misnomer in the world of nonprofit fundraising it that donors tend to be loyal to the same cause or causes. This is actually not the norm! According to a Blackbaud report in 2015, $25 billion in donations were switchable from one organization to another. Just because someone donates once, does not mean that without proper engagement they will give again. First-time donor retention rates are as low as 19% while repeat donor retention hovers around 63%. This does not happen in a vacuum. Retention takes diligent care and attention by the nonprofit fundraising team.
Driving Donor Engagement for Long-Term Support:
Laura shared with the group at our workshop five ways nonprofits can upgrade a donor to a lifelong giver. Donor stewardship is something that most nonprofits fail to spend enough time on. After the first and every gift after, send them a "Thank You". An organization cannot say thank you too often. Nonprofits should provide regular & timely updates to their supporters. People need to see where their dollars are going and how it is having an impact on the cause they care about. Updates through letters, pictures, videos, and newsletters help build trust and help donors connect with the work they are funding.
On an individual level, nonprofits can help engage donors for long-term giving through recognition. First time givers are most likely to make a second gift if asked to give again within 3 months of their first gift. Publicly thanking donors shows them how much their gift was appreciated and needed. Talking with donors about becoming ambassadors for your nonprofit, tapping into the donor's personal network, is another great way to cultivate the relationship with them and identify new donors. Work with your repeat donors about how they can further help the organization meet its goals.
The process of donor engagement is not overly complex but it does require organization and follow up. Donors want to learn more about your nonprofit and become involved on a deeper level, nonprofits just have to show donors the way. By moving through this engagement cycle, Laura said fundraisers are able to track areas that need improvement and identify strategies that aren't quite working.
We welcome you to contact us if you have any questions about planned giving, donor-advised funds, or other ways we can help your nonprofit grow and thrive. Keep an eye out for future seminars and workshops on our website. Thank you to Laura Kaufman of Partners in Effective Philanthropy for the productive workshop.